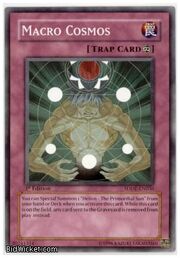 Monster Cards (21):
1x Electric Lizard
1x Mirage Dragon
1x Gren Maju Da Eiza
2x Naturia Beans
1x The Immortal of Thunder
1x D.D. Survivor
1x Bicorn Re'em
1x Morphing Jar
2x Skelengel
2x Helios the Primordial Sun
1x Ninja Grandmaster Sasuke
1x Big Eye
1x Unknown Synchron
1x Helios Duo Megistus
1x D.D. Warrior Lady
1x Junk Synchron
1x Arcana Force 0-The Fool
1x Gandora the Dragon of Destruction
Spell Cards (11):
1x Swords of Revealing Light
1x Soul Exchange
1x Chaos Greed
2x Dimensional Fissure
1x Chaos End
2x D.D.R.-Different Dimension Reincarnation
1x Pot of Greed
1x Soul Absorption
1x Different Dimension Capsule
Trap Cards (8):
3x Macro Cosmos
1x Return from the Different Dimension
1x D.D. Dynamite
1x Nightmare Wheel
1x Enchanted Javelin
1x Magic Cylinder
Extra Deck (1):
Community content is available under
CC-BY-SA
unless otherwise noted.