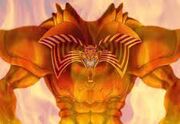 I'm am still working on this deck. Please note that this deck is still under construction AND is my very own 2014 Collector's Edition Deck. That means this deck cannot be used since it contains cards not allowed in tournaments.
Main Deck
Monster Cards:
●Exodia the Forbidden One
●Right Arm of the Forbidden One
●Right Leg of the Forbidden One
●Left Arm of the Forbidden One
●Left Leg of the Forbidden One
●Exodia Necross
●Exodius the Ultimate Forbidden Lord
●Exxod, Master of The Guards
●Guardian Sphinx
●The Winged Dragon of Ra
●Slifer the Sky Dragon
●Obelisk the Tormentor
●The Wicked Avatar
●The Wicked Dreadroot 
●The Wicked Eraser
●Blue-Eyes White Dragon(x3)
●Blue-Eyes Shining
●Mokey Mokey(x3)
●Speed Warrior
● Junk Synchron
●Zubaba Knight
●Ganbara Knight
●Big Piece Golem
●Medium Piece Golem
●Small Piece Golem
●Ma'at
●Rabidragon
● Dark Tinker
●Lesser Fiend
●Kuriboh
●Winged Kuriboh
Spell Cards:
●Miraculous Rebirth
●The Seal of Orichalcos
●The Flute of Summoning Kuriboh
●Mystical Space Typhoon
●The Book of Moon
●Polymerization(x3)
●Contract with Exodia
●Mokey Mokey Smackdown
●Synchro Boost
●Synchro Blast Wave
Trap Cards:
●Negate Attack(x3)
●Mirror Force(x2)
●Kunai with Chain
●Miniaturize
●Compulsory Evacuation Device
Extra Deck
●Blue-Eyes Ultimate Dragon
●Mokey Mokey King
● Stardust Dragon
●Catapult Warrior
●Junk Warrior
●Dark Highlander
●Number 39: Utopia
●Number 17: Leviathan Dragon
Community content is available under
CC-BY-SA
unless otherwise noted.