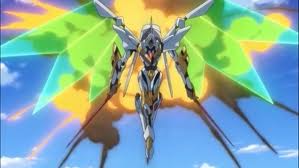 This deck can be consider an "pure machine" deck, but it has special monsters in it called mecha type monsters. This deck's main focus is protecting the monsters that are going to be use for tuning or rituals. Also the traps and spells in this deck can counter mostly anything the opponent can think of.
Deck Bio
I've wanted to make a deck none can ever think of that would show my well developed skills. This deck is best in any type of duel even handicap.
Card List
Here is an example of this deck
16 Monster Cards | 14 Spell Cards | 10 Trap Cards
Monster Cards:
1x Gaiking
1x Soulgain
1x Strike
1x Raiking
1x Tekkaman Blade
1x Linebarrel
2x Linebarrel Mode B
1x Linebarrel Mode C
1x Vulking
1x Mazinkaiser
1x Core Fighter
1x Pegas
1x Awakened Eva 01
1x Gundam
Spell Cards:
2x Mode B Activate
2x Great Face Open
1x Scrander Equip
1x Core Revive
1x Mecha Battle Arena
2x Dying Roar
2x Buster Shot
1x Mecha Scanner
1x Blue Comet
Trap Cards:
1x Funnels Unleashed
1x Seed Mode
1x Eva's Battle stance
1x Attack Returner
1x Angel Healing
1x Awakening!!
1x Effect Eater
1x Trap Aura
1x Power Bond
1x Eva Roar
Side Deck:
1x Lancelot Albion
1x Guren Seiten
1x Tekkaman Blade Buster Mode
1x Strike Freedom
1x Gaiking the Great
Community content is available under
CC-BY-SA
unless otherwise noted.