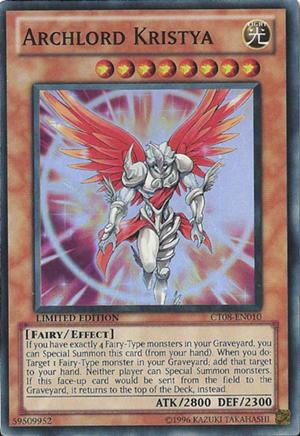 This is my first published deck. It is based on the idea of making your opponent so frustrated that he/she surrenders. An example: It was able to lower the Life Points of the user of a good Fiend deck to 300 in a short amount of time. A lot of these cards mess with the opponent so it is a great deck to test other decks against.
Monster Cards (20)
Chow Len the Prophet x2
Photon Wyvern x2
Marshmallon
Effect Veiler
Wattfox
Justice Bringer
Chiron the Mage
Damage Eater
Armored Bee
Man Eater Bug
Penguin Soldier
4-Starred Lady Bug of Doom
Shocktupus
Gundari
Dark Simorgh
Hyper Hammerhead
Archlord Kristya
A/D Changer
Spells (10)
Ego Boost
Swords of Revealing Light
Nobleman of Crossout
Fissure
Peeking Goblin
One Day of Peace
Pot of Duality
Heavy Storm
Creature Swap
Level Limit - Area B
Traps (10)
Mirror Mail
Begone, Knave!
Divine Wrath
Raigeki Break
Seven Tools of the Bandit
Magic Cylinder
Needle Ceiling
Draining Shield
Dust Tornado
Mirror Force
Closing notes: Usually you can set up some good traps like combining Marshmallon with Mirror Mail and destroying both, or using Creature Swap with Gundari.
Community content is available under
CC-BY-SA
unless otherwise noted.