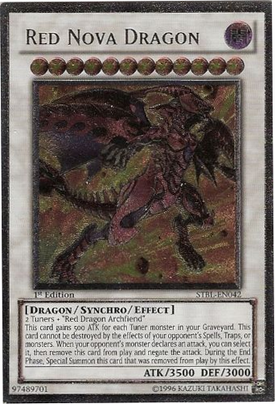 I always wanted to make a deck based around getting out Red Nova Dragon, and I just put it together. It uses special summons via Junk Synchron to make sure you dont lose any weak tuners due to Red Dragon Archfiend's effect. It's not bad it can hold off the optimal field setup of Six Samurai Decks, Scrap Decks, Monarchs, and a good assortment of variety decks too, so it's not bad and it's not even done yet. Check it out, if you have any tips let me know!
Monsters
1 Oracle of the Sun
1 Samurai Sword Baron
1 Sangan
2 Fire Ant Ascator
1 Cyber Dragon
3 Attack Gainer
1 Stronghold Guardian
2 Submarineroid
1 Summoner Monk
3 Junk Synchron
3 Apocatequil
1 Necro Gardna
1 The Tricky
1 Delta Flyer

Spells
2 Silver Wing
1 Ekibyo Drakmord
2 Mystical Space Typhoon
1 Monster Reborn
1 Reinforcement of the Army
1 The Warrior Returning Alive
1 Level Limit Area B
1 One For One
1 Lightning Vortex

Traps
1 The Transmigration Prophecy
1 Power Frame
1 Scrap-iron Scarecrow
1 Power Frame
1 Malevolent Catastrophe
1 Magic Jammer
1 Sakuretsu Armor
1 Trap Hole
1 Trap Jammer
1 Half Counter
1 Call of the Haunted
1 Magic Cylinder
1 Dimensional Wall
Extra Deck
3 Stardust Dragon (for support)
3 Red Dragon Archfiend
2 Red Nova Dragon (as of right now, there will be 3)
Community content is available under
CC-BY-SA
unless otherwise noted.