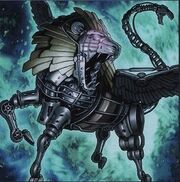 ScrapSworn is a deck that utilizes the milling power of lightsworns to get scraps in the graveyard to utilize their effects to special summon from the grave. it commonly synchro summons 7 or 8 star synchro monsters usually scrap dragon or scrap archfiend. ScrapSworn is incredibly fast and can pull off a synchro on the first turn if played correctly.
Deck List by Kazza1 09:27, October 5, 2010 (UTC)
Monsters
Judgment Dragon x2
Celestia, Lightsworn Angel x1
Garoth, Lightsworn Warrior x1
Jain, Lightsworn Paladin x1
Lumina, Lightsworn Summoner x1
Lyla, Lightsworn Sorceress x2
Ryko, Lightsworn Hunter x2
Wulf, Lightsworn Beast x2
Gorz the Emissary of Darkness x1
Spells
Charge of the Light Brigade x1
Mystical Space Typhoon x3
Traps
Extra Deck
The extra deck is very versatile for this deck it mainly synchros for 7 or 8 but you may choose to run plaugespreader zombie and then 6 and 5 will be more common it is possible to synchro for 6 without plaugspreader ryko+ goblin.
Community content is available under
CC-BY-SA
unless otherwise noted.