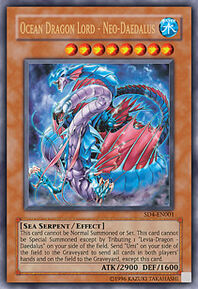 I love my water deck, but like my fairy deck which is also posted here, it usually doesn't do too well. I know I need a Brionac, I had to trade mine and am looking for another. Suggestions are welcome.
Summary: 50 card deck, 26 monsters, 14 spells, 10 traps, 3 synchros and 1 tuner
Monsters:
Armed Sea Hunter
Flip Flop Frog
Penguin Soldier
Unifrog
7 Colored Fish
Warrier Of Atlantis
Ocean Dragon Lord- Neo-Daedalus
Spiral Serpent
Cold Enchanter
Substitoad x2
Island Turtle
Testudo Erat Numen
Deep Diver x2
Neo Aqua Madoor
Barrier Statue Of The Torrent
Sea Serpent Warrier Of Darkness
Lekunga
Reese The Ice Mistress
Snowman Eater
Amphibious Bugroth MK-3
The Legendary Fisherman
Dupe Frog
Ameba
Bitelon
Spells:
Creature Swap
A Legendary Ocean x2
Moray Of Greed
Mage Power
Book Of Moon
Level Limit- Area B
Burden Of The Mighty
Magical Mallet
Double Summon
Black Pendant
Supremacy Berry
Salvage
Mystical Space Typhoon
Traps:
Defense Draw
Mask Of Weakness
Widespread Ruin
Option Hunter
Tornado Wall
Bottomless Trap Hole
Shadow Spell
Depth Amulet
Froggy Forcefield x2
Synchros:
Sea Dragon Lord Gishilnodon
Gaia Knight, The Force Of Earth
Thought Ruler Archfiend
Community content is available under
CC-BY-SA
unless otherwise noted.